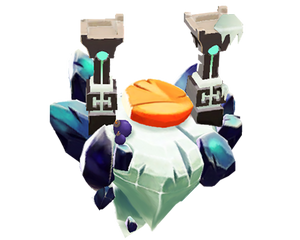 Lands are unique battlegrounds that are unlocked as you increase your Trophy count. Each land will unlock new Clones. The higher land you're in, the more rewards you get from eggs. Eggs from higher lands also have a higher chance of pulling Mythical Clones.
Feature Unlocks
Certain features are unlocked when the player goes up Lands rather than Experience level.
History
The game originally had 12 lands that came with the 4/12/17 soft launch: Jungle Dawn (Land 1), Jungle Noon (Land 2), Jungle Dusk (Land 3), Jungle Night (Land 4), Canyon Dawn (Land 5), Canyon Noon (Land 6), Canyon Dusk (Land 7), Canyon Night (Land 8), Frozen Dawn (Land 9), Frozen Noon (Land 10), Frozen Dusk (Land 11) and Frozen Night (Land 12).
Statistics
Land
Land #
Trophies Req
Clone Unlocks
Supernatural Unlocks

Jungle Dawn
1
0

Mini Bombs

Tower Bombs

Jungle Noon
2
100

Bouncy Bomb

Jungle Dusk
3
300

Bubble of Coins


Bubble of Gems

Jungle Night
4
500

Meteor Rain

Canyon Dawn
5
800

Quake

Canyon Noon
6
1100

Bubble of Mana

Canyon Dusk
7
1400
NA

Canyon Night
8
1700

Darkness

Frozen Dawn
9
2100

Blizzard

Frozen Noon
10
2500
NA

Frozen Dusk
11
2900
NA

Frozen Night
12
3300

NA

NA

Season Portal
13
3700
NA
NA